Replicated $50M Series C To Advance Multi-Prem Software Adoption
Grant Miller
• 2021-07-26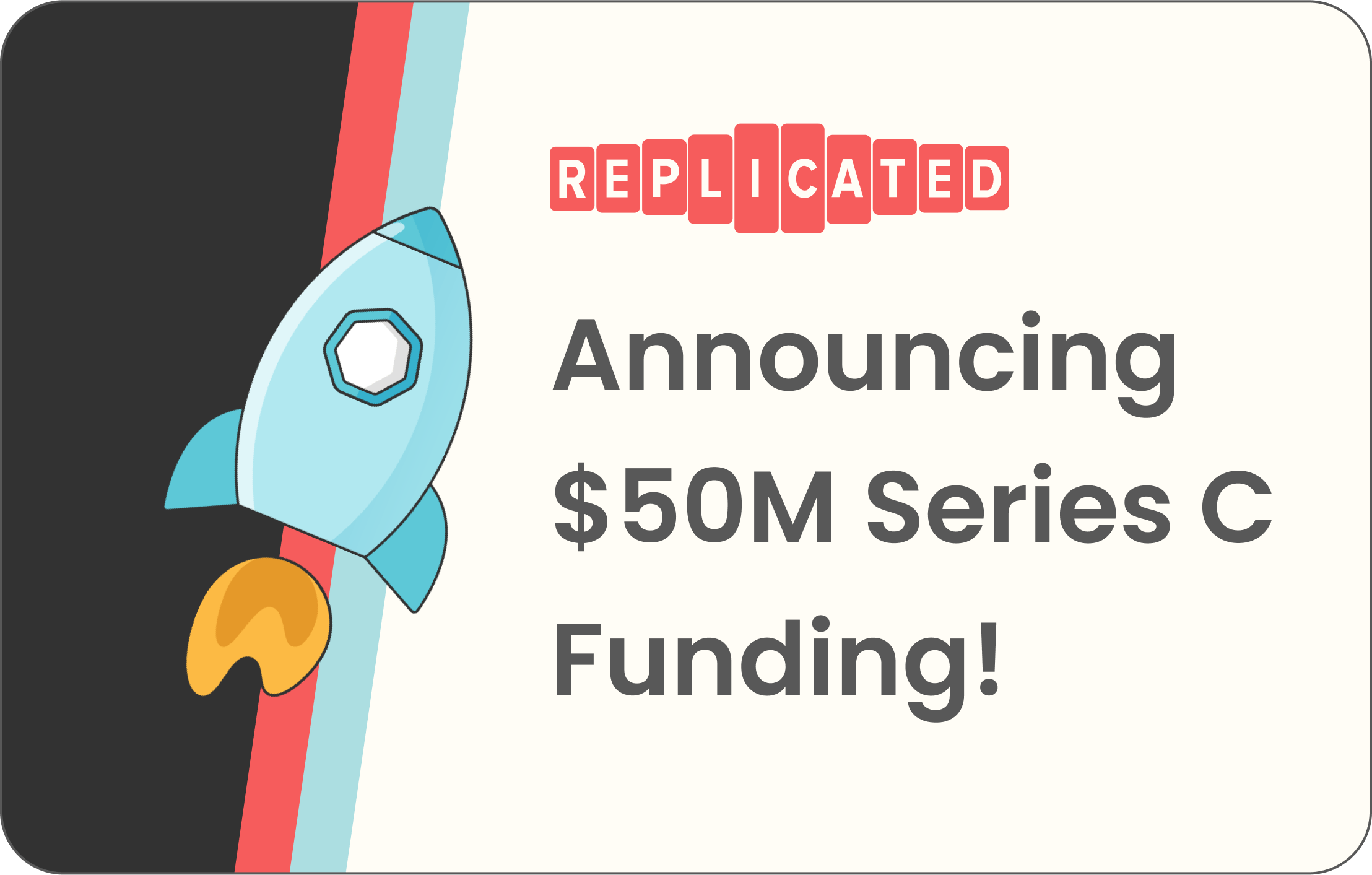 In our never-ending pursuit to help independent software vendors bring multi-prem applications into the hands of enterprise software customers, we're proud to announce that Replicated has just raised a $50M Series C round of funding!
To say that this news humbles us is an understatement. We began this company over six years ago with the dream of making private instance, customer-managed, multi-prem software delivery a reality. While this gets us closer to where we want to be, we wouldn't have come this far without the support of our dedicated customers and investors.
This round of funding is led by Owl Rock, a division of Blue Owl Capital, with participation from Lead Edge Capital, Headline, and existing investors, including Two Sigma Ventures, Amplify Partners, BoldStart, Ridgeline, and Heavybit. 
Offering a platform for delivering 3rd party software to any customer environment wasn't quite as popular an idea when Marc and I started on this journey in 2014. When we began, the term "on-prem" was little more than a dirty word, spoken in hushed tones and reacted to with recoiled body language and scornful glares. (Ok. Maybe that's a bit dramatic, but it did draw a raised eyebrow or two and questions like, "you have heard of the cloud, right?").
Fast forward to 2021, and we now find ourselves in a world where modern, cloud-native, Kubernetes applications enable software vendors to package and ship their apps to any customer environment. We'd like to think we were ahead of the curve, trendsetters even, but we'd be lying if we said we hadn't made plenty of mistakes along the way. Luckily, we hired the best and brightest people to take Replicated to the next level, and with this announcement and our tremendous growth, we'd say that it was the right choice. 
Less than nine months ago, in October 2020, we were thrilled to announce our $25M Series B funding round. In that time, we've grown substantially, adding over 50 new team members across the organization and significantly expanding our Executive team. We've overhauled our product and open source projects to offer our customers the best tools available for delivering and managing their software in customer environments. We've even published reports that back up why we think multi-prem software is the wave of the future.
We also moved to become an entirely remote company, allowing us to focus on finding the best talent, no matter where they may rest their head. This transition to becoming a remote company is not one that we took lightly, however, and this last year we're proud to have rolled out a way to empower our team members "working from home." — A home office reimbursement program that aims to alleviate all of the financial burdens from employees in a remote work environment. 
We aren't finished, though. With this round of funding, we'll continue to grow fast and look out towards a global expansion by bringing Replicated to Israel, Germany, the U.K., and more in the coming months.
The Future of Software Delivery
We believe the future of enterprise software delivery is multi-prem, the ability for software vendors to offer their applications to any customer environment with ease. Securing this funding will allow Replicated to continue revolutionizing how software is delivered and how enterprises manage it.
Yet, we don't measure our success by the venture capital firms that partner with us. We genuinely believe that these investors see the vision of enterprise software delivery and management that we do. We look forward to a world where IT admins can leave behind the bespoke, manual processes that have historically plagued software delivery and embrace a platform-based solution to relieve the pains they and their customers face alike.
Replicated <3's Kubernetes. To see the growth from this open-source, portable, extensible platform over the last seven years has been incredible, and we eagerly await seeing where the community will drive it in the years to come. We placed our bets early on the success of Kubernetes and doubled down with the release of Kubernetes Off-The-Shelf,  and with this new round of funding, we're honored to be among the industry leaders driving its development forward.
Looking Forward
Pursuing a multi-prem future has led us to work with some of the best and brightest enterprise software companies in the world like HashiCorp, Puppet, UiPath, Rocket.Chat, CircleCI, PluralSight, Tripwire, and we are excited to add more every month. Currently, more than half of the Fortune 100 uses Replicated to manage applications, and we're not stopping until they all do.
Some might think that after a funding round like this, it gets easy. We believe that that couldn't be further from the truth. In reality, now is when it gets much more challenging. What brought us to this point was building Replicated on a foundation of curiosity, trust, transparency, and accountability. As we scale our company and expand into other countries, we understand the responsibility of providing world-class Kubernetes application management software and, more importantly, ensuring that we hold onto the same culture and values that we did as a company of 20. We know that our employees, customers, and investors wouldn't want it any other way.
To learn more about how you can use Replicated to deliver your enterprise software to any environment, schedule a demo today. If you think you'd be a good fit for our team, we're also hiring (a lot).