Admin Console
With Replicated's admin console, your customers get both click-to-deploy and advanced automated operations.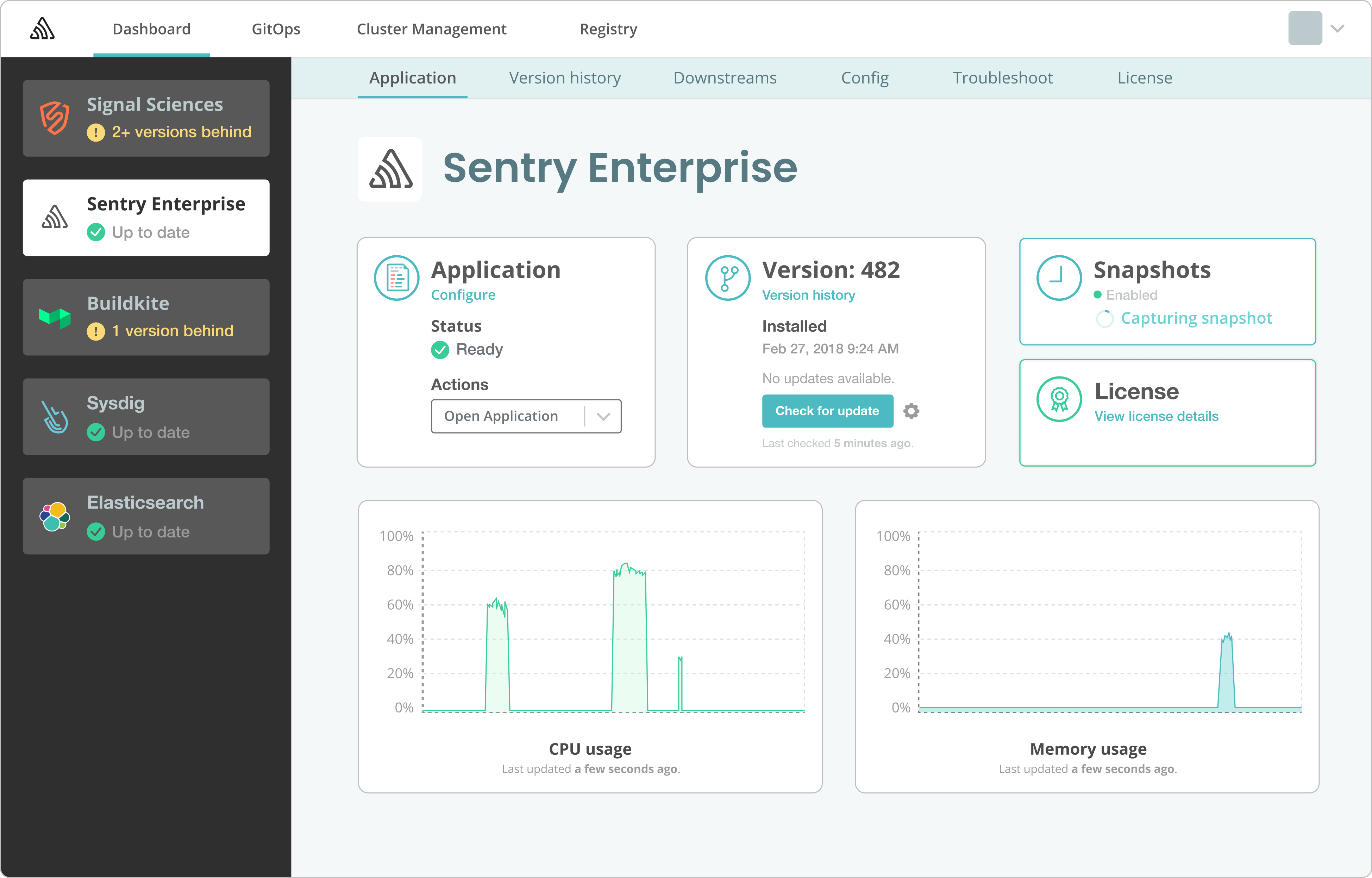 Easy to Use Application Admin Experience
Accelerate a customer's "time to live" with your app through easy 1-line installation of the admin console — with a fast and easy interface to configure, update and manage the private instance of your application in just a click.
Advanced Automated Operations
Meet the demands of even your most sophisticated enterprise customer with advanced automation options.
Integrate with Private Registries
Automatically retag and deliver images into internal private registries for image scanning.
GitOps Ready
Detect, process and commit updated Kubernetes manifests to internal version control systems – automatically.
Last Mile Config Overlays
Facilitate last mile configuration changes with automatic Kustomize overlays that persist through upstream updates.
Multi-Prem Deploys
Enable shared configuration between downstream environments (i.e. prod/staging etc) with midstream configuration management.
Snapshot, Rollback and Restore
Enable customers to configure in-cluster or offsite snapshots for seamless rollbacks and disaster recovery. Restore whole applications from PoC infrastructure into a namespace in a production cluster.
Multi-App Capabilities
Deliver multiple apps to customers in a single admin console. Enable seamless install and configuration of additional apps with just a few clicks.
Embedded Troubleshooting
Leverage embedded tools for environment conformance, configuration validation and troubleshooting.
Air Gap Ready
Deliver your app to even the most secure environments with no outbound internet access - reliably.
Priced for businesses of all sizes.
No matter the size of your business, there's a plan for you. Sign up and get access to the full platform for 21 days to build your technical proof-of-concept.
Learn more about pricing