Kubernetes Anywhere
Deliver to both customers with an existing Kubernetes cluster as well as to those without any Kubernetes knowledge. With Replicated, deliver Kubernetes native tools for existing clusters or embed K8s with apps for customers without a cluster.
Install in
Any Environment
Enable your customers to deploy your application into any environment: bare metal, GovCloud, VPC, Vsphere, or an existing Kubernetes cluster. Replicated embeds Kubernetes with your application for customers who don't have a cluster, and provides Kubernetes native tools for installing into existing clusters.
Industry leading components
With Replicated's open source embedded Kubernetes solution, get an open source, production-grade, air gapped Kubernetes installer combining upstream K8s with overlays and popular components.
Custom installer with kurl.sh
Customize your Kubernetes installer to meet your application's requirements and create a custom distro that can be managed as part of your Replicated release channels.
Existing Cluster Installation
Install into an existing cluster with our pre-packaged kubectl plugins for licensing, configuration, and environment conformance testing.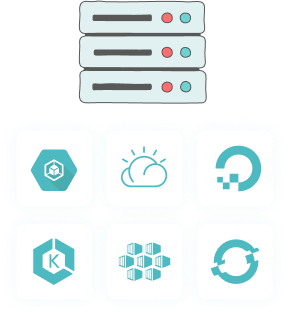 Deploy your application anywhere
Replicated allows deployment of your application anywhere: GKE, AKS, EKS, Digital Ocean, IBM Cloud, OpenShift, Rancher, Tanzu, Bare Metal… the possibilities are endless.
Priced for businesses of all sizes.
No matter the size of your business, there's a plan for you. Sign up and get access to the full platform for 21 days to build your technical proof-of-concept.
Learn more about pricing