HashiCorp Achieves 208% ROI Using Replicated: Forrester TEI Report™
David Hallinan
• 2022-04-28
For organizations of all sizes, every dollar counts. Whether a startup or a Fortune 100 company, ensuring that investments in software solutions yield exceptional results is key to long-term success. Here at Replicated, we've been adamant that our multi-prem software distribution platform enables enterprise software vendors, no matter the size, to reduce costs while increasing efficiency and scalability.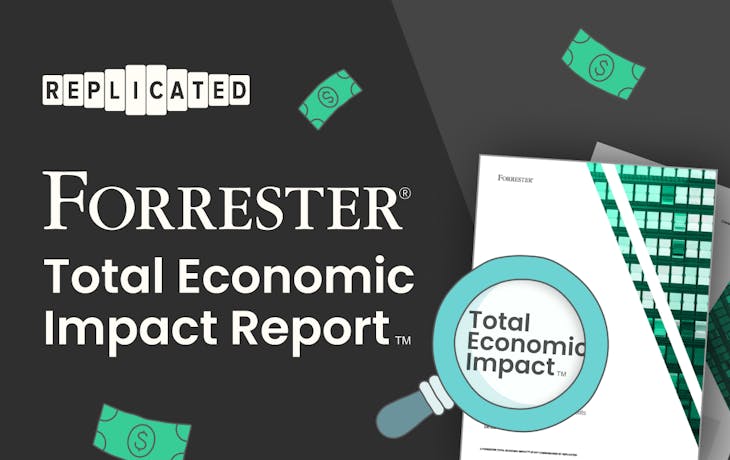 But, at the end of the day, we've got to prove those claims, and few metrics can do that as well as return on investment (ROI).
That's why we're proud to announce that Replicated has proven to be an effective driver of savings and efficiency in Forrester's new Total Economic Impact (TEI) Report. The study is now available and verifies that Replicated provides immense value for enterprise software vendors.
To help organizations realize the benefits and savings they can see with Replicated, we commissioned Forrester to conduct a Total Economic Impact™ report on Replicated through an in-depth analysis of one of our oldest customers, HashiCorp. HashiCorp has used Replicated to deliver and manage customer-controlled instances of Terraform Enterprise for the last three years, so we were excited to see what value they've derived from trusting Replicated with their software delivery and management.
To put it lightly, we were thrilled with the results.
Through a series of interviews with stakeholders at HashiCorp, Forrester has verified that:
HashiCorp achieved an ROI of 208% using Replicated, with a payback period of under six months.
Replicated's platform, tools, and functionality enabled HashiCorp to avoid development costs of $2.8M by not building an in-house distribution and deployment management tool.
HashiCorp gained DevOps efficiency year over year due to the simplified distribution and management of Replicated's platform in easing software deployment.
And much more.
As Armon Dadger, co-founder and CTO of HashiCorp, puts it, "We knew it was critical to have the ability to deploy to many different customer environments quickly. But building our own in-house, on-premises application distribution mechanism required too much engineering time and resources to ensure customers got the tailored solution they expected. With Replicated, we can seamlessly deliver into diverse customer environments, expanding our services and reaching new customers wherever they want to run."
HashiCorp Reaches New Markets With Replicated
Thanks to Replicated, this report finds that HashiCorp was able to expand its total addressable market (TAM) by delivering to diverse customer environments. Replicated supported the deployment of HashiCorp's application to a multitude of customer, self-hosted environments, allowing them to target new secure verticals and users of every major cloud platform.
"Before [using] Replicated, we could only distribute in one cloud. We wanted to expand into other clouds that were gaining more popularity with our enterprise customers. We needed a cloud-agnostic solution to service those customers. Replicated gave us that abstraction that allowed us to provide cloud primitives in any cloud." - Senior Engineering Manager
This abstraction enabled HashiCorp to expand its services to use different private and public clouds and even improved time-to-market speed. HashiCorp reached customers faster, captured revenue more rapidly, and stayed ahead of the competition.
"We have industries that we service that will not use a certain vendor. Replicated's solution has opened up market segments for us for either vendor preference or industry-specific issues." - Senior Engineering Manager
Replicated Reduces Costs and Increases Efficiency
Making more money and acquiring new customers is one thing. It's entirely another to support those customers over the entire lifecycle of their application usage. Forrester found that HashiCorp improved the reliability and stability of deployments while offering a faster installation time with enhanced customer-facing support.
"Installation artifacts are complex and require several steps to manage and execute. Replicated helped improve the predictability, reliability, and stability of our deployments. Having Replicated support our deployment pipeline gives us atomic steps that we can use to help facilitate things." - Senior Engineering Manager
Replicated's framework enabled packaging pipeline management while maintaining existing CI/CD processes, enabling HashiCorp's DevOps team to increase efficiency year over year. Replicated's support bundles, preflight checks, one-line install, and built-in support tools supported the installation and configuration process, leading to an enhanced customer experience.
"Support is a major benefit that we've gotten out of Replicated, [and that's] largely because we previously didn't have a support-bundling feature. Replicated comes with a built-in support bundle tool, so our customers can investigate issues and pass along diagnostic information to our support reps completely on their own." - Product Manager
A Study in Savings
We think that this report's findings couldn't have arrived at a better time. As data governance and security become top of mind for so many enterprises worldwide, Replicated is proud to demonstrate our ability to enable enterprise software vendors like HashiCorp to quickly and securely ship their products to any customer environment.
Before using Replicated, HashiCorp was already doing incredible things with Terraform Enterprise. They have a world-class engineering team, and it's heartening to see in this report that even the best in the business can realize tremendous benefits by adopting Replicated. Many thanks to HashiCorp for their help with this report. We can't wait to see what they do in the future!
To access the complete study, The Total Economic Impact™ of Replicated, please head to our download page.